"Packaging & Sustainability" webinar
Uteco's fifth webinar was broadcast on March 30th in collaboration with three other leading companies in the packaging sector: Novamont, Sun Chemical and Ticinoplast.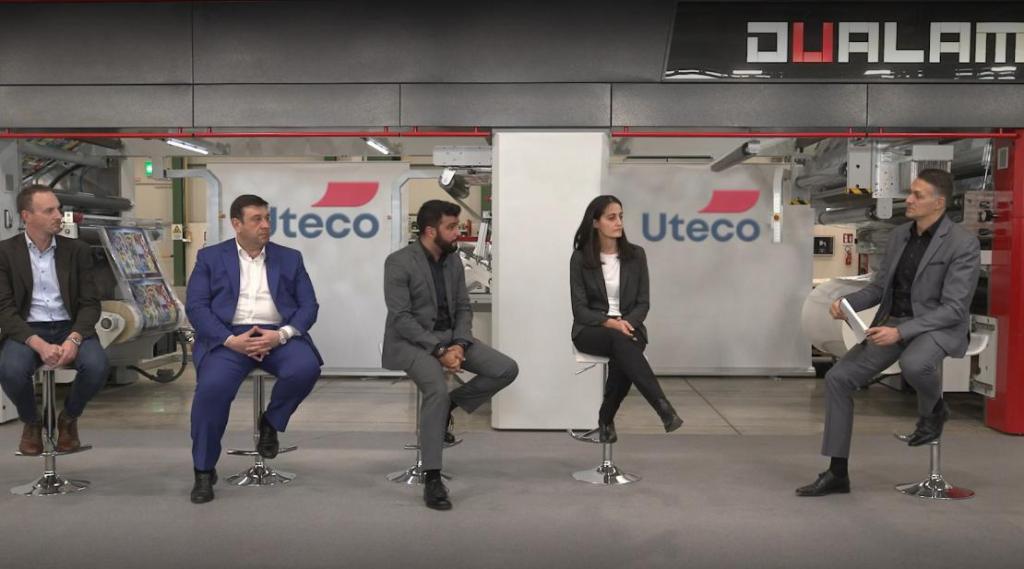 The webinar titled "Packaging and Sustainability: Innovative solutions for production chain of excellence" exclusively presented three sustainable packaging concepts, created using raw materials with a high renewable content and drastically reduced environmental footprint. Maintaining all the technological and communicational pluses, the partners joined forces creating the foundations for a more sustainable packaging future in the direction of an increasingly inclusive circular economy.
The first solution involves a compostable laminate for food packaging to be organically recycled. Ticinoplastcontributed with the rigid and very transparent B100 film, obtained by extruding a new grade of NovamontMater-Bi, while Uteco used the Diamond HP 112 flexographic machine to print in 10 colors. The B100 film was treated with a two-component coating from Sun Chemical, which improves the oxygen permeability of the substrate, and was printed with Sun Chemical water-based inks. Ticinoplast B102 film was used as sealing layer, laminated with B100 to create a compostable multilayer, usable for various applications in the food sector. Lamination was carried out on the Uteco Rainbow 4.0 machine, a highly automated coating and laminating machine designed for the specific needs of food packaging. The Sun Chemical compostable adhesive Solvent Free, with low monomer content and high renewable content, was used for the lamination.
The second solution involves the creation of a 100% polyethylene mono-material laminate suitable for various applications in the food sector and suitable for mechanical recycling, to pursue the objectives of an increasingly circular economy. The film used is BOPE, a bi-oriented tenter-frame polyethylene film suitable for printing and coating in mono and multilayer applications. In this case, Uteco used the Diamond HP model 112, particularly versatile and precise, and the innovative technology of the DuaLam solventless laminator. For internal printing, Sun Chemical water-based inks from the Aqualam series were selected, designed for high-speed printing of plastic films for lamination. The lamination between the two films was carried out using Uteco's DuaLam lamination technology.
The third solution declines the concept of the single layer with the external print, suitable for mechanical recycling. For this printing, the EB Flexo ink series was used in combination with the EB Flexo overprint varnish suitable for sterilization. Electron Beam WetFlex inks are based on Solvent Free technology and are therefore free from volatile organic compounds (VOCs). For printing Uteco used its special Onyx XS "EcoOne" machine equipped with EB3 technology and designed to be able to use electron beam drying inks and guarantee high production efficiency, a speed of 300 m/min, reduced emissions and energy savings of up to 30% compared to traditional solutions.
The three solutions were narrated by Anan Hiyasat, Uteco's MESA Area Sales Manager, Elisabetta Fanesi, Novamont's Application Development Manager, Pierangelo Brambilla SunChemical's Global Laminating Adhesives & Cold-Seals, EMEA/LAR Functional Coatings Product Director, and Claudio Martini, Ticinoplast's Sales Manager.
We thank all those who participated in the webinar and were able to testify that sustainability is not only the right path to follow but the future of our business.
To review the webinar click here: https://www.youtube.com/watch?v=TBRrTIiaUYQ.