Special Applications
By special applications we mean printing on substrates that require special processing, such as bills, passports, holographic anti-theft labels, and films.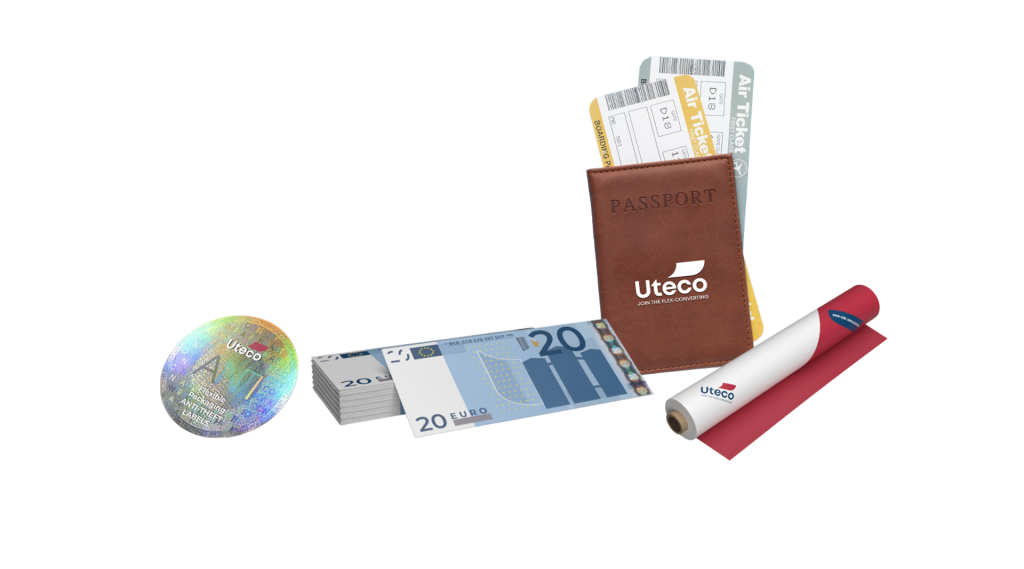 Bills
Printing on paper bills is a special procedure that requires a machine capable of making holographic prints. At Uteco we produce amazing gravure machines – such as the NXS 300, Next 350 and Next 450 – that print anti-counterfeiting holograms for paper bills production.
Passports
The safety of every citizen is very important. We also produce gravure machines that print anti-counterfeiting holograms for the production of passports and international identification documents.
Films
Our rotogravure presses can print on intricately processed substrates, such as the special protective films of aerospace components, ensuring excellent print quality and color rendition.
Anti-counterfeiting holographic labels
Every top-of-the-line product needs a quality seal to guarantee its origin and manufacturing. Your products will be safe thanks to the holographic anti-counterfeiting labels printed by Uteco rotogravure presses.
The relevance of anti-counterfeiting labels
Anti-counterfeiting labels can be associated with a garment, a bottle of wine, or even just an accessory and, therefore, are much more than a status symbol, that represents the product quality essence. The support in a few centimeters of space expresses the identity of a brand, and plays a dual role as a guarantee for the consumer and an anti-counterfeiting system to protect production. Actually, the majority of people do not know that the protector of many national and international luxury brands is a small family-run Italian company that, for more than half a century, has been working with absolute discretion, creating small masterpieces inspired to the best polygraphic tradition. It is called "Artigrafiche Pagani" and is located in Lazzate: a very small place between Monza and Brianza, where the biggest giants from the fashion, automotive, electronics, and infotainment industry come from all over the world to commission their anti-counterfeiting seals, made through work inspired to the most rigorous principles of quality, exclusivity and confidentiality.