The Solventless Green Technology at K show 2019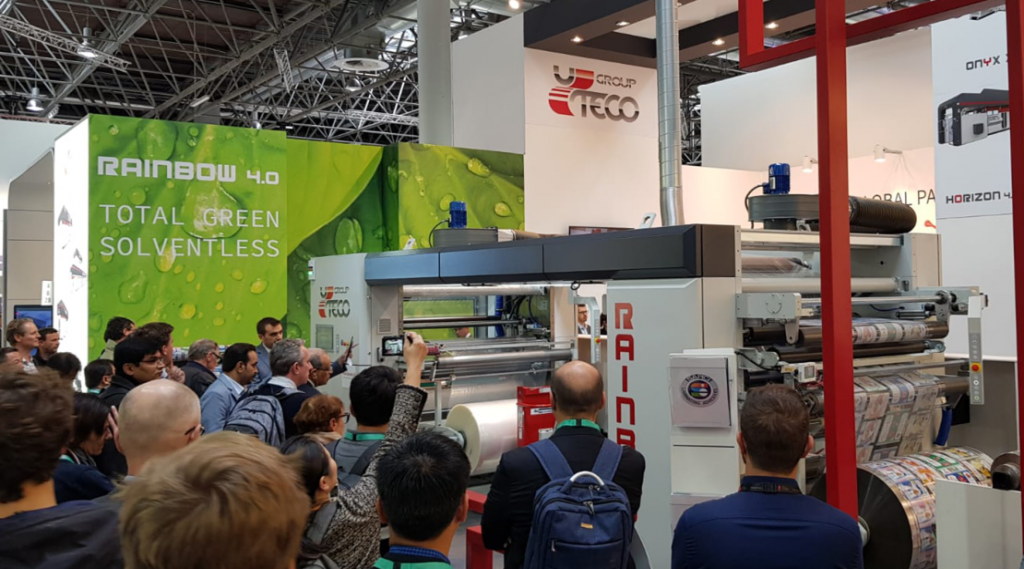 At the next edition of the K Fair, to be held in Düsseldorf from 16 to 23 October, Uteco Group, in collaboration with Sapici and Sun Chemical, will present the Rainbow 4.0 laminator and its total green solventless technology.
In Hall 4 -  Stand B30 the machine will operate during the entire event with live demos twice a day, giving visitors the opportunity to see the machine in production at 500 m / 1.
 "This is important showcase for Uteco Group, presenting the entire range and promoting one of its latest creations, the solventless machine Rainbow 4.0" - declares Luigi Bertagna, Manager of the Business Unit dedicated to laminating, coating and special machines. "The machine has different technological solutions that are unique and in the forefront compared with laminators e market offer", continues Mr. Bertagna: starting with the automatic sleeve removing from the  transfer cylinder to the new technology developed for the uniform application of minimum quantities of adhesive on the entire surface of the material and least but not last the "zero waste" function of adhesive-free material during  reel change ".
Another important plus of this machine is the possibility of a countinuos monitoring of adhesive transfer on the coated material, grams per square meter, in addition to the total consumption monitoring at the end of production of the various solventless components.
Furthermore, to meet  market request even more eagle eyed to eco-sustainability and  food safety and operator health, Rainbow 4.0 presents a low environmental impact coating process thanks to the use of the "monomer free" adhesive, the result of the partnership between Sapici and Sun Chemical. This adhesive makes it possible to satisfy the most restrictive requirements in terms of food safety (ie monomer content <0.1%) and operator safety, also offering a rapid turn over of the laminates produced thanks to the new rapid polymerization process.
The laminated product will therefore not only avoid any risk phase due to the presence of isocyanates (characteristic of any conventional adhesive on the market) but will be perfectly in line with all the requests regarding migration restrictions in food packaging.
The machine is also equipped with an automatic washing system for cleaning all the rollers, using special spray nozzles integrated into the machine. This washing system uses a total green, non-flammable and non-toxic detergent, able to remove any trace of adhesive after the lamination process.
Once again Uteco Group stands out for the real innovation of its products with added value not only in terms of return on investment and competitiveness, but designed for the safety of the operator and the healthiness of the workplace.