From Italy to Japan: Daishowa inaugurates the third Uteco flexo machine
Daishowa Paper Products and Packaging is a Japanese company of about 1000 employees operating in the paper sector. It was founded in 1904 and it has been collaborating with Uteco since 2011. The collaboration has started with the purchase of a flexo machine; since then, there has been a relationship of constant and common growth between the two. In fact, in 2018 Daishowa officially started the production with the new Topaz 608 printing machine, designed by Uteco with high quality flexographic technology.
In June 2018, in Yokaichi, near Kyoto, Daishowa inaugurated two new plants. One of these is dedicated to the production of bags for the Japanese company NewLong.
The official ceremony took place according to the most ancient Japanese traditions. Among participants, there were the owner and CEO Ryosuke Saito, Daishowa managers and employees, Davide Cucinella, Uteco CMO, and Mr. Hongo, director at Itochu Machine, which distributes Uteco printing machines in Japan. 
Uteco stands out again for its innovative technologies and reliability, even in the Japanese market which is particularly demanding.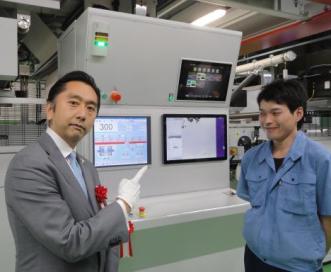 We are thousands of miles away but very close in our way of thinking. I chose Uteco because it has an innovative vision, and its printing machines are perfect products from every point of view.
RYOSUKE SAITO
MANAGING DIRECTOR AND OWNER AT DAISHOWA PAPER PRODUCTS