CI Flexo Tech Conference in Shanghai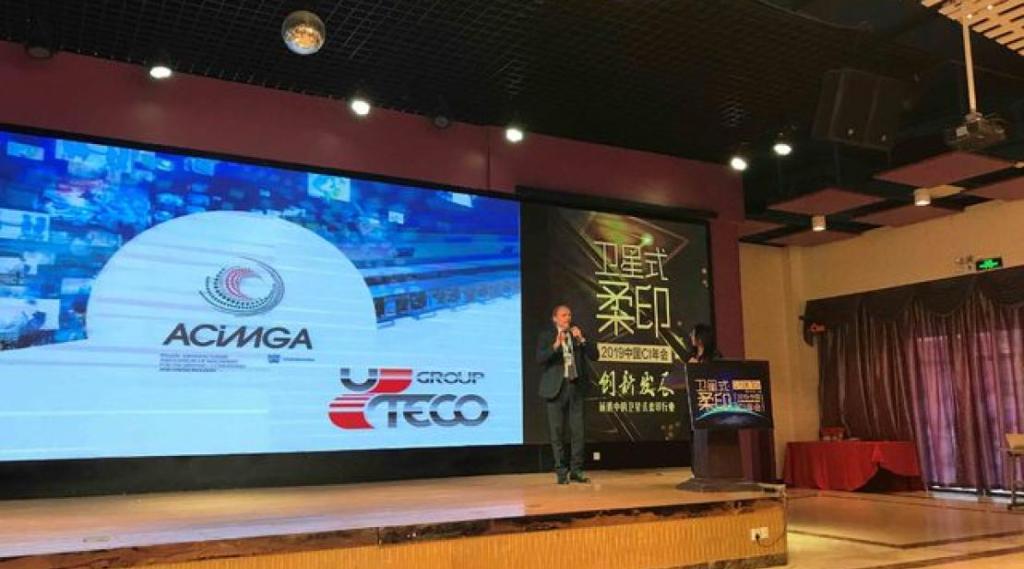 On the  8th  of  November 2019 Uteco Group participated  at the Annual Seminar "CI Flexo Tech" in  Shanghai- China, organized in conjunction  with the International Trade Expo, attended by a delegation of the Italian government. Aldo Peretti  - Group President & CEO - attended the Seminar together with Giuseppe Sauli, Sales Manager of Uteco China and the Uteco China team.
In his presentation, Ing. Peretti, on behalf of Confindustria / Acimga, started with the historical and business ties between China and Italy, particularly regarding topics of packaging and printing  in main sectors such as food and fashion. Then he mentioned his first participation in 2011 at the 2nd International Forum of the Chinese Peiac Association as honorary member and world representative of Flexo technology.
At that time a 5% growth in flexo technology was assumed in the next 10 years to come, even though there was the prevalent role of rotogravure in China. Nowadays this  perspective can be considered reached.
Mr Peretti presented the global interchange data and in particular Italy-China for the packaging, printing and flexo businesses, surveyed by the main sector associations and analysts: Acimga, FTA, FPE, Smither Pira ... and compared with those of the Chinese FTA, CFTA.
As a global technology player, Uteco Group continues to develop and innovate all the printing and converting technologies, considering  both the point of view of Converters and Brand Owners, as the two should no more be considered in unchanging opposition, but all technologies should be chosen and optimized according to the specific application following the final Customer needs.
Even Digital, for which Uteco is now a world leader in high performance flexible packaging, with machines sold not only in Europe and America, but also in Japan and China, should be seen no longer as competitive technology but as a complementary one for short-run and variable data printing applications for promotional campaigns.
Peretti also announced the strengthening of Uteco China, headed by Giuseppe Sauli, confirming the growing and strategic importance of the Chinese market for the Uteco Group and for the entire Italian industry in this sector.
At the end of the dinner, he awarded one of the winners of the CI Flexo Tech Awards.
A delegation of Chinese Businessmen will visit  the Uteco Plants together with CI Flexo Team during  Drupa Exhibition.