Crystal 808 Presentation Webinar
The third Uteco Webinar dedicated to flexographic printing is coming, where the new Crystal 808 will be presented.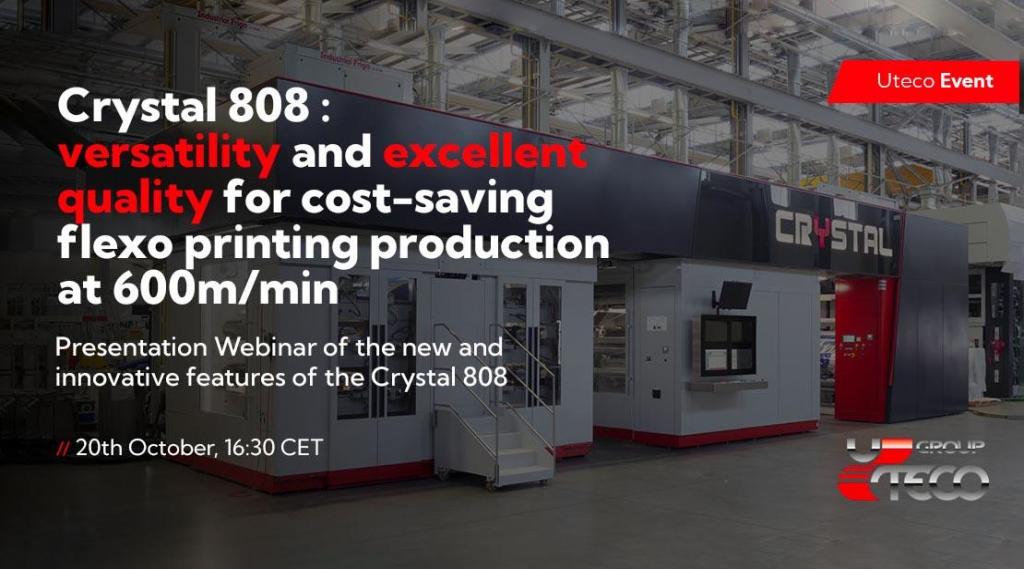 The Webinar will be held on 20 October 2021 at 16:30 CEST directly from the Uteco 3 plant. The presentation of the machine and its innovative features will be illustrated by Alessandro Baldo, Uteco Regional Manager for Latin America and the Iberian Peninsula, with the help of the printers Simone Rossignoli and Matteo Moscardo who will show us how the machine works.
The Crystal presents innovative elements such as the new version of Kiss & Go® 2.0 for fully automated printing pressure setting, the new CRF register system with numerical marks for perfect registration and a new print repeat control. These are just three of the main features that allow it to be incredibly flexible, versatile and fast, but there is much more.
Some further features of the machine are:
Maximum speed 600 m / min
Use of water-based inks for a more sustainable and safe production, especially in terms of food guarantee
Uteco patented Touch & Go®, Tune & Go®, Kiss & Go® 2.0
Fully automated anilox and chamber doctor blade washing system 
Semi-floating drying tunnel 6 meter long
Automatic central drum cleaner
 
Finally, Alessandro Baldo will answer the most interesting questions concerning the characteristics of the machine and the design and sale process of the machine itself. An enriching comparison with those who live and work every day in close contact with Uteco customers and interface with their needs and requests.