The new version of the Onyx 810 with integrated Sheeter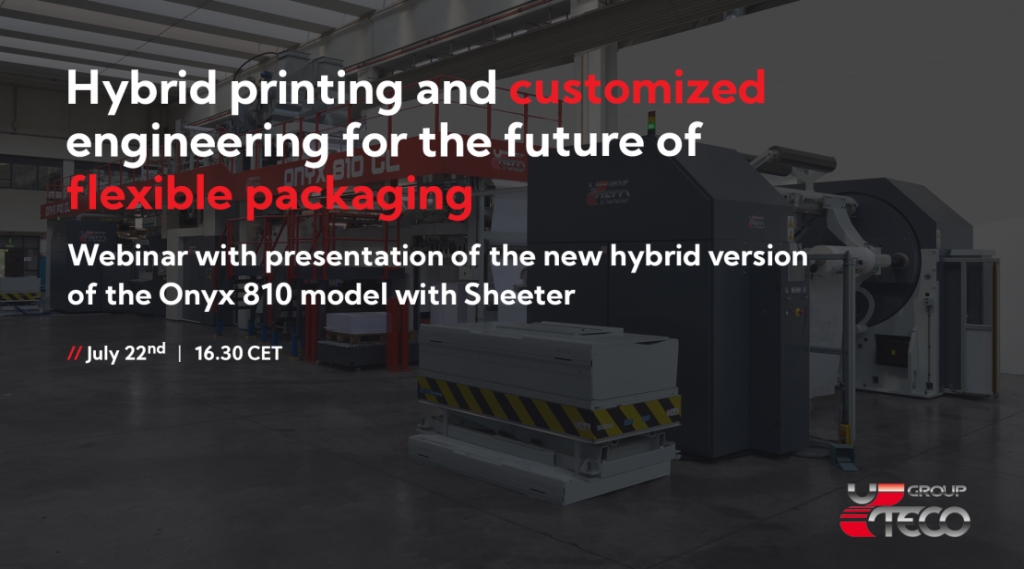 Coming soon Uteco's second Webinar dedicated to hybrid printing in which the new hybrid version of the Onyx 819 model 130 with integrated Sheeter will be presented.
The Webinar will be held on 22 July 2021 at 16:30 CET directly from in Uteco, Plant 1. The presentation of the machine and its innovative hybrid features will be illustrated by Giuseppe Sauli, Far East Area Sales Manager Uteco, with the help of the printing technicians Simone Rossignoli and Matteo Moscardo who will make the machine work live.
Onyx 810 model 130 features hybrid elements such as the integrated Sheeter to cut the printed sheet directly in the machine, the additional in-line stack unit that allows you to print two additional colors (or varnish) and a particularly important winder and unwinder capable of supporting a reel of 1500 kg with a maximum diameter of 1520 mm. These are just three of the main features that make this machine hybrid and that allow it to be incredibly flexible, versatile and and much more.
Some further features of the machine are:
Maximum speed 400 m / min
Use of water-based inks for a more sustainable and safe production, especially in terms of food safety
Uteco patented Touch & Go®, Tune & Go®, Kiss & Go®
UPS system that guarantees the controlled shutdown of the machine in the event of an electrical blackout
Anilox and doctor blade washing system
Dedicated drying on the downstream group
Multi cleaner that combines brushes and suction to clean the paper from dust before printing
With this machine it is possible to hybridize two different machines into one and switch, reducing time and costs, from a reel to reel to a reel to sheet production. To demonstrate the versatility and high performance of this machine, the two different machine configurations and the product print samples will be shown during the presentation: one printed and die-cut on cardboard intended for food packaging using the Sheeter and one print on paper that can be used in bags for retail.
Finally, Giuseppe Sauli will answer the most interesting questions concerning the characteristics of the machine and its design and sale process. An enriching comparison with those who work and respond daily to the needs and requests of Uteco's costumers.